New Oceanis 38.1 ready to sail from Palermo
Functionality, elegance, high performance: these are the watchwords of the Oceanis 38.1, the new Bénéteau sailboat presented in 2019 at the Genoa and Cannes salons.

The Oceanis 38.1 can be defined as a direct heir to the Oceanis 41.1, with a remarkable hull with an edge for surprisingly comfortable navigation.

The stability is exceptional thanks to a forward windward movement, that moves quickly and goes far without losing in safety.

On the inside, the challenge of increasing the living space of the square can be declared successful with this new design that gives a wider movement.

The owner's cabin is more private than ever, the L-shaped kitchen allows you to create an adjoining square for dining indoors hosting up to eight people, or you can always develop in length for a more contemporary solution.

Personalization and functionality are perfectly combined in the Oceanis 38.1, which leaves the owner a wide choice on the trim of his boat.
Technical details Oceanis 38.1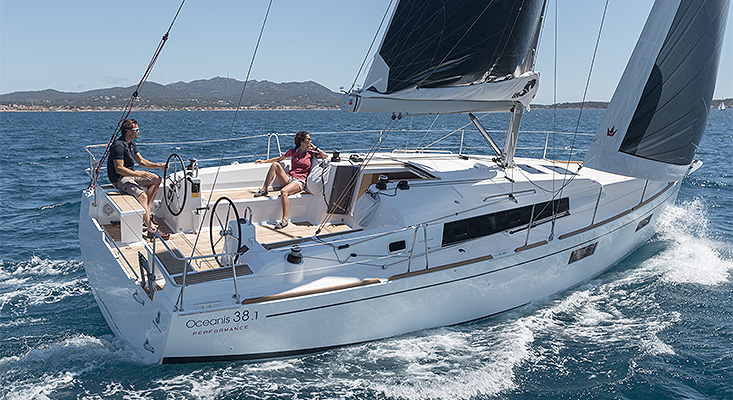 Length overall: 11.50
Hull length: 11,13
Beam hull and beam max: 3.99
Light displacement: 6 850
Fuel capacity: 130L
Fresh water capacity: 130L
Motor power: 30cv
CE certification: A8 / B9 / C10
Oceanis offer 38.1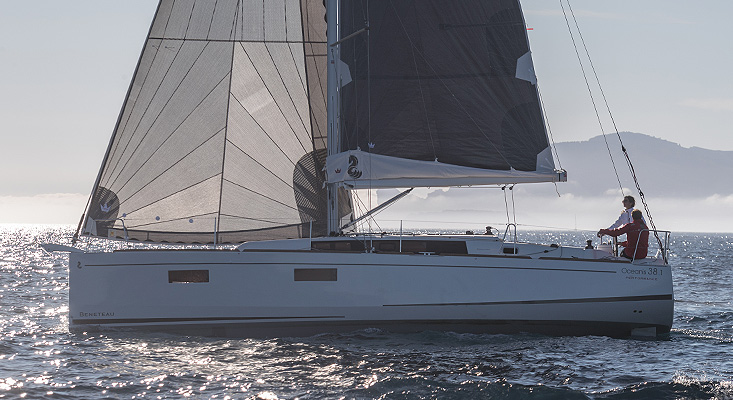 Our offer on the Oceanis 38.1 includes the following options:
Engine: Yanmar 3Jh5Ce 29Kw (40Cv) Diesel Sd

Version: 3 Cabins + Toilet + Shower room on the left
Family set up
Solid wood strip aft platform
Solid wood striped helmsman seats
Cockpit table luxe version (polyester)
Electric windlass + remote control
Cockpit shower hot / cold water
2 halyard containers
Aft bridge protection
Outboard engine support
Hi-Fi: Fusion + Internal speakers & Loud speaking external speakers
Complete 230V circuit: Internal sockets, Shore socket
40 Ampere battery charger
2 auxiliary batteries 80 Ampere additional
Additional water tank (200 L / 53 US Gal)
Cabins + Square: Fans
Mosquito nets for portholes
Pack Coastal 2020 - B&G (*)
1 Display Triton 2 Graphic (Rudder console on the left side)
Probe (Depth Sounder, Speedometer, Temperature)
Wind Sensor B&G (Tempo, Anemometer)
Windex
2020 Offshore Pack - B&G (*)
1 Zeus3 7 "wide wireless screen - Rudder console on the left side
(Triton 2 starboard passage)
Chart table: B&G V60 VHF, AIS receiver function
Lazy Bag
B&G Nac3 Pilot (With Electronic Compass)
Mainsail Rollbar
Celestial Deckhouse Hood + Bimini Celestial Cockpit
Sea Water Foot Pump
Complete Mooring Kit
Fixed Cockpit Porthole For Aft Cabin (s)
1 Additional Pouf in the Square
Safety Equipment
Ready to sail from Palermo
Total price: €233.432,82 (VAT included)